On Tuesday this week I was woken up by an internal voice that clearly said, "Seek first the kingdom of God and his righteousness, and all these things will be added to you." 
I had no idea where this came from, but I was sure it was a verse so I opened my Bible app to search it and sure enough this was Matthew 6:33.
You have to understand, I haven't been in the book of Matthew for months and this is not a verse I've previously memorized or anything like that.
Stunned and grateful for my answered prayer (I'd been relentlessly asking for clarity over the work of my days), I immediately scrolled above and below this verse to find context.
The first thing I noticed is that these words were spoken directly by Jesus!
And right before the verse, Jesus is telling us to not be anxious about worldly things, because God already knows what we really need. He says if we seek Him first, He will be our provision.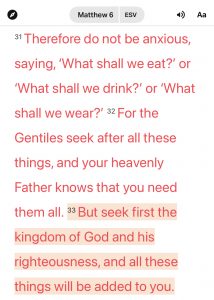 Then scrolling down below the verse, He says not to be anxious about tomorrow, but rather be present in this day because each day is sufficient in its troubles.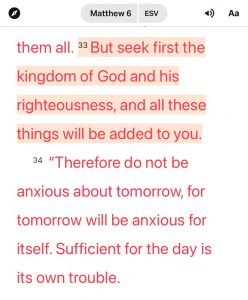 I believe there are more people than just me who this message is meant to reach.
Because, we can't focus on tomorrow's troubles when we aren't there yet!
One day at a time we will be provided for, if we can put first things first… God.
Seek Him in everything and He will not only guide you, but give you peace through it. 
I can tell you this understanding gave me NEW peace over my uncertainties, because I know now that the work of my days will happen or (not happen!) just as it should.
Each day is sufficient. And so are we.
We need not worry about tomorrow… just one NEW day at a time.