How can we be "new again?"
In her memoir, Andy brings you along for the ride as she goes from life as an ordinary 32-year-old mom to writing goodbye notes to her two sons before a risky brain surgery to remove a cancerous tumor. In an instant, every day and every moment became equally fleeting and precious.
On her way to figuring out how to survive the aftermath, she realized that she will never be her old self again. She would have to learn how to live in these new circumstances with the help of new perspectives she gained along the way.
To be New Again is to realize and embrace that on the other side of trauma or a life-changing event, you will never be the "old" you again. Experiences change us and that's okay. In fact, it's incredibly empowering if you choose to see your growth over your pain. Through every disaster, you can emerge new, even better than before.
Listen to a free chapter right now!
Simply fill out the form below to hear Andy narrate a chapter from her story that will move and inspire you.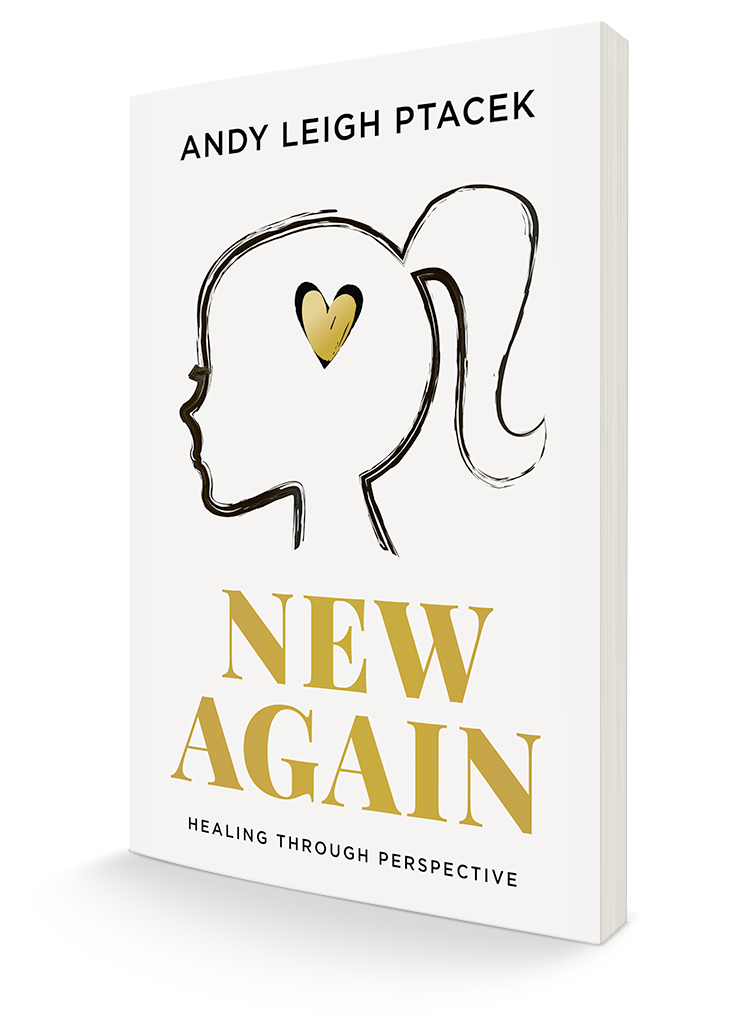 What people are saying.
"This book made me laugh and cry with moments in between both.  Andy does an amazing job of bringing you into her story and feeling her feels.  This book gave me the perspective that no matter our own story, we each are continually provided the chance to recreate ourselves, start over, and become better than we were." -Amanda Walker
"Andy pours her heart out to her readers in this book. She opens the door and gives you a raw, honest view of what it was like to be given a death sentence and how she came out the opposite side a changed person, a new person. You can't help but fall in love with her along the way as she offers you the greatest perspectives on facing fear and learning to live again." -Julia Rice
"A narrative rife with vulnerability, sincerity, and sometimes light humor, New Again gives a very real edge-of-your-seat account of the author's sobering experience with brain cancer. She describes in raw detail the emotional roller coaster of the journey she shared with the support of family and friends, and how she found strength through her faith and determination to boldly face death while fighting for life. The writing style flows naturally and easily, so much so that while reading it, you feel more like you are having a conversation with an old friend that reading a book. THIS IS A MUST READ!!! This is especially an important read for anyone who is or has a family member dealing with cancer. Although nothing can prepare someone for such a life-altering event, this book reveals so many natural emotions, reactions and situations that arise in dealing with cancer. It will move you, frighten you, make you smile, and leave you feeling ultimately grateful for the beauty of being alive. I look forward to seeing more works from this author!" -Jeffery S. Orr
"Beautiful, insightful, and will fill you with abundant emotions. You will laugh, cry, and be left with a complete uplifted spirit! I love this book so much and think so many people will be helped by her story, her testimony." -Ashley Parker
"This book is excellent, I highly recommend it for anyone who has been through a challenging time in their life, and who hasn't? My wife and I suffered the loss of a child and this book gives me the courage to tell my story and reach out to others as a source of encouragement like Andy has done in her book. Thank you for sharing your life with us Andy!" -Kyle Borg
"I loved how real and open Andy was in writing her own personal journey of the entire process of getting diagnosed with brain cancer, the treatment process, and the in between roller coaster ride she went on mentally, spiritually and physically through it all. I felt like I was there with her and I loved seeing her mind and spirit transform through it all! She came out spiritually stronger and more certain of heaven and what's really important in life.A must read! It's helped me deal with some of the emotions I am facing with my current trial in life." -April Bolley