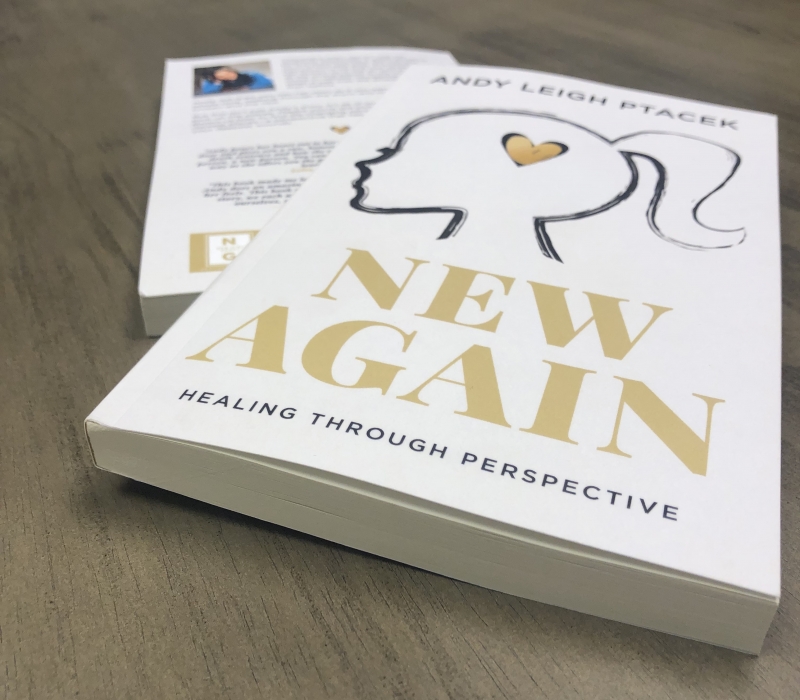 Book Overview
"Inoperable brain cancer" was her diagnosis. Essentially, a death sentence for this thirty-two-year-old wife and mom of two little boys. Everything she had known to be true was yanked from her, thrown up in the air, and scattered in all the wrong places. In the mess, she chose to rebuild—reorganize, even—and when it was over she emerged better than before.
Andy will draw you into her story as if you were there the whole time, walking through the storm and the bliss, the broken and the new.
But this isn't just Andy's story. It's all of ours. We've all had to pick up the pieces. Maybe you're still picking them up. Andy shows us how to find life-changing perspective in even the darkest places—a perspective that has the power to heal even your deepest wounds.
You forget how to breathe or speak. Your heart tries to exit your body through your mouth. Consciousness is relative in this moment. Everything is in slow motion, but you can't actually process any of it.
That is what it feels like when you've been told you're going to die. I know firsthand.
There is fear, of course, but my fear in that moment wasn't about experiencing death; I was afraid to leave my family to a future that I would not be part of.
I was afraid their memory of me would fade to nothing. That the two little humans whom I had grown in my own body would grow up to be adults without any tangible piece of me to help them navigate life. That the man whose soul was so intertwined with mine would be left broken when my half departed.
I wasn't about to leave a mess like that. My will to survive became primal. Everything that mattered became my why. Everything that didn't matter became insignificant. It was all very clear. If there's one thing a death sentence is good for, it's perspective.
God was there. I saw how he'd been working up to this moment as I tried to guess his next move. He equally comforted and angered me.
Had that doctor with the big curly hair just said "brain cancer?" Had that other doctor standing next to her just wiped a freaking tear as if to say a final goodbye before we'd ever properly met?!
What thirty-two-year-old knows how to die? I'm in better shape than ever. I'm running a successful business. My family has barely made it past the starting line!
But this is really happening.
I need to cry hard. Then I need to plan a war.
This book is not about fighting cancer. It's about fighting a battle we all share: the battle to find perspective when we start to spiral. The battle to find intention when we suddenly realize we've been living on autopilot. The battle to live a purposeful life when this world wants to trap us into believing that we are victims of circumstance.
What People Are Saying
Andy's story is a reminder that trials in life are inevitable; however, to have strength, courage, and determination is a choice. This book is powerful and I hope to keep this perspective fresh in my mind consistently. I am so thankful she was able to put her words on paper as reading New Again was a true gift; it is raw, honest, and beautifully told.

This book is excellent, I highly recommend it for anyone who has been through a challenging time in their life, and who hasn't? My wife and I suffered the loss of a child and this book gives me the courage to tell my story and reach out to others as a source of encouragement like Andy has done in her book. Thank you for sharing your life with us Andy!

From real life to the pages of a book, Andy shares a beautiful story of how she used perspective in overcoming real life trials despite the cards she was being dealt. New Again takes you from brain cancer to bravery and will inspire you from start to finish.

This read was a roller coaster ride of emotions. As Andy shares her journey, you'll find you can't set the book down. Quite simply, amazing!

I am not a reader. I have never enjoyed reading for any reason, my entire life. I watched as Andy posted about her new book and something pulled at my heart to read it. I started reading it today and for the first time in my life I finished a book in one day. I could not put it down. What an amazing story filled with so many emotions. I cried, I laughed and I felt empowered to live in the moment, release my fears to God and to not take these precious days for granted. Thank you Andy for sharing your life struggles and fears. This book is amazing and I know I am not the only one that this book will impact. If you haven't already, you should definitely get this book because I promise you won't be disappointed.

Andy shared the highs and lows of her journey with a brain tumor in such a detailed way. I cried, I laughed and I felt inspired after reading the book. I am honored to know this woman personally! She is SO strong in so many ways.

Wow! What a truly inspirational book you can connect with going through ANY adversity. She takes you through the highs, lows and set backs of her journey. Great read! I would recommend this to anyone.

This book made me laugh and cry with moments in between both.  Andy does an amazing job of bringing you into her story and feeling her feels.  This book gave me the perspective that no matter our own story, we each are continually provided the chance to recreate ourselves, start over and become better than we were.

Andy pours her heart out to her readers in this book. She opens the door and gives you a raw, honest view of what it was like to be given a death sentence and how she came out the opposite side a changed person, a new person. You can't help but fall in love with her along the way as she offers you the greatest perspectives on facing fear and learning to live again.

"The work and growth that is being done is remarkable. Andy is the real deal. I believe God is healing me through our work together."

Bethel, CT

"After three sessions I was already feeling so much better. I was able to take action on my retreat plans which was part of a SMART goal that we picked together and after I did that, the "flow" started to return again and I'm getting back on track toward where I want to be!"

Ahaheim, CA

"I am loving the group! It's bringing awareness and action to the areas of life that need a breath of fresh air."

"Even though we are on different paths or different phases of life, when you collaborate you gain a perspective and clarity that you didn't see before. It's so good to have people around you who also want to grow and find solutions. The experience personally helped me give myself permission and validation over my goals and a road map to get there."

Surprise, AZ

"This [group experience] helped me break things down instead of looking at the big overwhelming circumstances in my life. It also helps when others keep you accountable and in the habit of doing the things you need to do to re-orient. This was extremely helpful."

Peoria, AZ

"The greatest value was having Andy's encouragement and guidance during a time of stepping outside my comfort zone to go farther than I've been able to go before. After each session I felt energized and motivated. Her light and encouragement is so pure and loving."

Anaheim, CA

"Loved loved loved working with Andy!! She was very personable and kind and easy to talk to! She helped me get my life in order and helped me see things from a different perspective. What I learned from her I will be taking with me as I continue to live my life. Something I am grateful for was the fact that she had a relationship with God and could help me with mine!! Love Andy and will continue to stay in touch with her!"

Colorado Springs, CO

"Andy has helped me to push myself to understand where these feelings are coming from. I have already come a long way, but it's a journey and I'm just so thankful that we got to work though it when we did. Thank you Andy, because our time together really did change me and more than ever I just want to continue to forge ahead and continue to do the work to live the life I know I can."

Phoenix, AZ

"I believe I have moved forward and grown towards what I want for my life. Andy and the group have poured belief where there was none before. I received accountability and a community of people who want to support me! Plus, I believe that the faith based component has helped me more than any other program."

Bethel, CT

"Wahoooo! I am miles ahead from where I started. So much clarity, so much joy, and feeling so much support. The greatest value I received was the ability to voice the things I was scared about and be redirected with love and encouragement."

Anaheim, CA

"I was feeling lost in business for too long because I didn't know how to put faith first in my business. To me, my faith is super important and I know that without God, not all is possible and my business couldn't reach it's potential if I do not put God at the center. I recently worked with Andy who is a faith-based life coach and not only is Andy such an incredible person, she has so much passion for what she does. I can't even tell you how impactful it is to have Andy as a Coach. We are constantly on this journey of growth. If you're not growing, you're staying the same."

Surprise, AZ

"God has used Andy and her program to help guide me through the last year and a half. One of the most helpful things I learned is the way she showed me to view my situation and daily scenarios from a different, more helpful perspective. It has made all the difference. I have been able to reflect on past moments of tragedy and pain and actually see how God really did use them for good. I loved the way she utilized homework to empower me to work through it all. She didn't just tell me how God was working, she let me find out for myself which was so much more impactful. Andy and her program have been a true God send and the timing of it all showed me I really can trust God to make a way."

Peoria, AZ

"Andy is the real deal. Through her program I have grown personally, spiritually, and have also developed new skills to keep moving forward in my life. She has also helped me uncover some deep rooted issues from my past that I needed to increase awareness around in order to truly work through. She has literally renewed me into a better version of myself and for that I am forever grateful. She has changed my life."

Bethel, CT

Next Level Coaching has literally brought my life to the next level. Andy's personable, knowledgeable, faith-based approach has been so important for my progress. I'm forever grateful that I've truly been able to change my life for the better and can continue to level up with Andy!

"I was referred to Andy through a mutual friend who was familiar with the challenges my daughter, Maya was facing. When I contacted Andy, she was kind and sympathetic to what we were going through. Andy connected quickly with my Maya. At one point Maya was reluctant to pursue coaching. As soon as Maya met Andy, she was willing to participate in the program. Maya felt a connection and never looked back! Andy has gently guided Maya into making better choices and Maya has gained a greater awareness of herself and future. We are so grateful for Andy's guidance and support!" -Carrie C. Stone Creek, OH

Stone Creek, OH – Mom of 16-year-old client.